Crested Butte, Western Colorado and Western US Weather

Current Conditions: Crested Butte Ski Area | Near Uley's and base of Twister lift (Butte SNOTEL)
Moon Ridge near Crested Butte | Crested Butte | Crested Butte South | Gothic | Gunnison Airport | Schofield Pass SNOTEL

Colorado now: CAIC weather station list | CoCoRaHS - Rain Hail Snow Network | RAMSDIS - Satellite Images | SNOTEL | Snow cover | Stream flow | Colorado Webcams

Weather Forecasts: Forecast Discussion | Crested Butte | Gunnison | Monarch Pass

Other Things: Crested Butte Avalanche Center | Radar Loop | Grand Junction Skew T | Ventusky (wind) | Local Webcams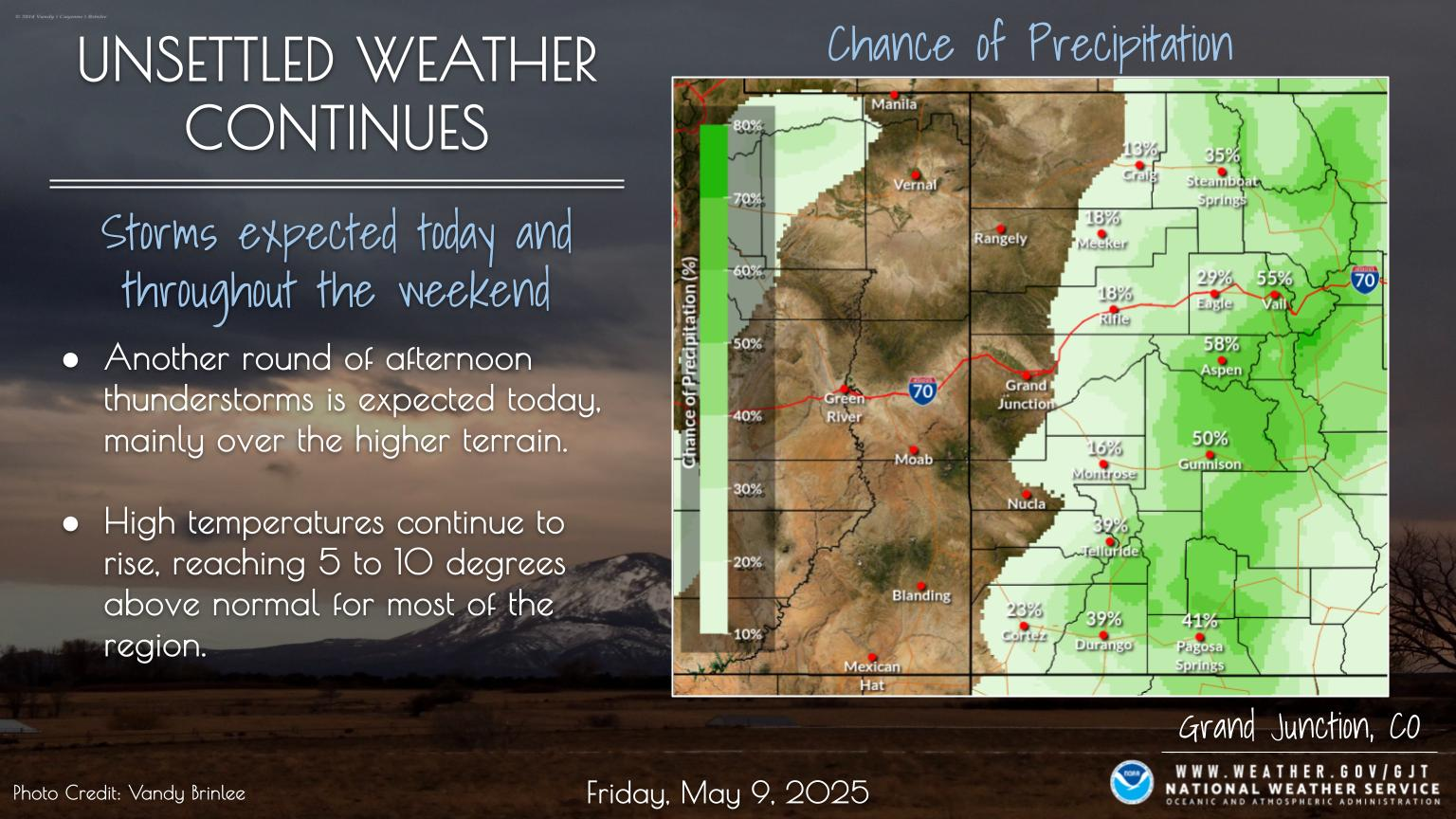 The "Weather Story" from the National Weather Service in Grand Junction. http://weather.gov/gjt




GOES West weather satellite water vapor image from the NOAA Geostationary Satellite Server http://www.goes.noaa.gov/




National infrared image with a jetstream analysis from the California Regional Web Server http://virga.sfsu.edu/





1km Satellite image of Colorado from Regional and Mesoscale Meteorology Branch RAMSDIS





GOES West Earth Full Disk Visible image of the western hemisphere, which is mostly the Pacific Ocean. Provided by the NOAA Geostationary Satellite Server http://www.goes.noaa.gov/



GOES East Atlantic loop. Provided by the NOAA Geostationary Satellite Server http://www.goes.noaa.gov/



Atlantic Sea Surface Temperatures (SST) from NOAA https://www.ospo.noaa.gov/Products/ocean/sst/contour/

National Hurricane Center https://www.nhc.noaa.gov/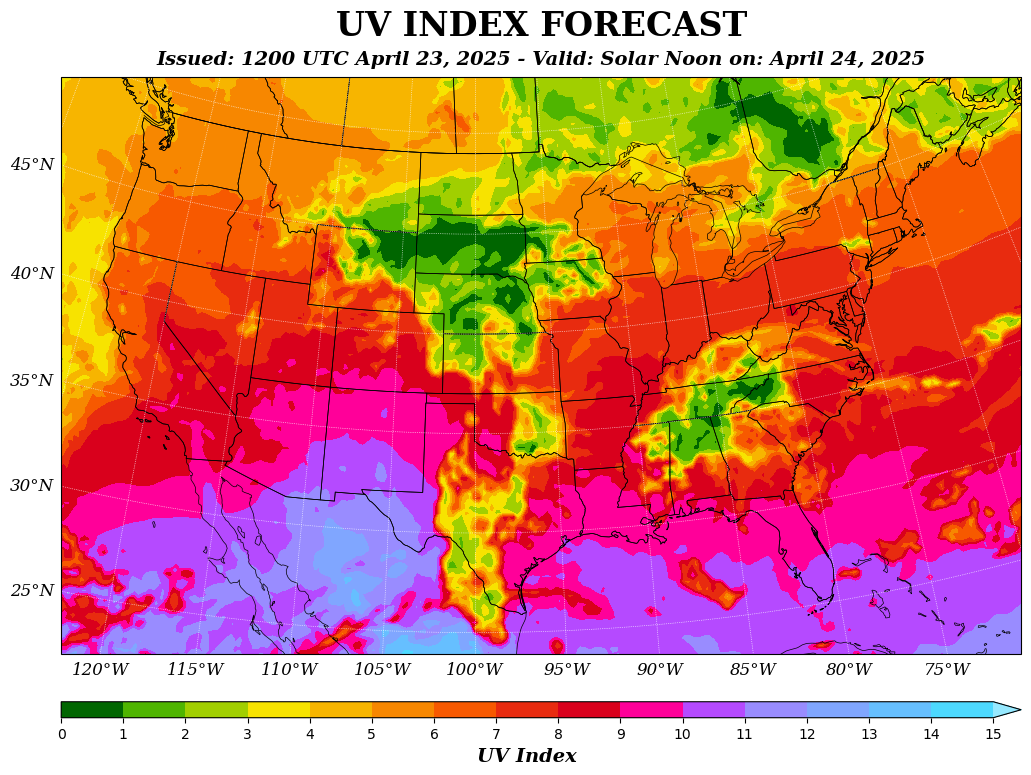 UltraViolet index from the USEPA website .
0-2 No danger except from not enough sun or the storm over your location. If from a long winter, expose your skin to the sun :D
3-5 Little harm from unprotected exposure to sun unless you're at higher elevations such as a ski area. Wear sunblock if you're over snow or water.
6-7 High - About 1/2 hour to sunburn. Wear hat sunglasses and sunscreen of at least SPF 15, reapply frequently.
8-10 Very High - About 15 minutes to skin damage. Additionally, wear long sleeves and cover your legs too.
11+ Extreme - Less than 10 min to skin damage. Panic! Not really, just be really careful! Follow above precautions and avoid sun from 10am to 4pm.


This is a current xray image of our sun's corona at 304 Å taken by the Extreme ultraviolet Imaging Telescope (EIT) onboard the Solar & Heliospheric Observatory (SOHO). From NASA's SOHO website http://sohowww.nascom.nasa.gov/


Go to http://spaceweather.com/ for more information about our star.


A CCD Bakeout is needed when the image is blurry from condensation on the telescope lens. Then NASA heats up the charge-coupled detector to evaporate water and other compounds. The EIT is usually back on line in a week, sometimes longer.




This is a graph of two xray wavelengths of our Sun measured by instruments on our GOES satellites.

Watch for solar flares which are spikes towards the middle or top of the graph. Set your alarm clock and look for auroras a few days after this graph spikes!


M-Class flares may cause brief radio blackouts and satellite difficulties. X-class flares spark lengthy radiation storms that cause planet wide radio blackouts and occasionally electrical grid problems. If your GPS device is not working correctly, sometimes space weather interference with the satellites is the reason why.

NASA is sharing SOHO data on the website http://sohowww.nascom.nasa.gov/.

The graph flatlines when the satellite is eclipsed.




Slate River above Baxter Gulch - discharge in cubic feet per second for the last three months.

Graph and data provided by the United States Geological Survey (USGS).




East River at Cement Creek - discharge in cubic feet per second (cfs) for the previous 90 days.

Graph and data provided by the United States Geological Survey (USGS).




Weather for Gunnison County, Colorado with satellite images of the western US and other fun things :-)

www.gunnisoninsects.org